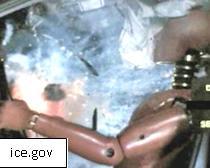 On October 15, 2012, the Immigration and Customs Enforcement's Homeland Security Investigations (HSI) announced that two residents of the Detroit metropolitan area were arrested for trafficking counterfeit airbags. The announcement was made after an advisory by the National Highway Traffic Safety Administration just the week before.

The two suspects appeared in a federal court on October 15. They are Samar Ayoub of Dearborn Heights and Hussein Jomaa of Dearborn.

Court documents declare that Jomaa bought air bags and other counterfeit items from Ayoub last year that were branded with the Honda symbol. Jomaa was the general manager of Eagle Auto in Detroit, and he planned to place the counterfeit airbags in cars that were going to be shipped to China. Ayoub bought the counterfeit airbags from a manufacturer in China.

When HSI special agents took the men into custody, they found about 73 counterfeit airbags. During the lab tests on the counterfeit airbags, videos proved that the air bags propelled objects, exploded, or completely detached from the mounting device in some cases.
Special Agent in Charge of HSI Detroit, Brian M. Moskowitz, stated: "Drivers or passengers of any car should never have to think twice that their airbags won't work or may actually harm them when the need them the most. Detroit introduced the automotive world to the passenger vehicle in 1973, and it has saved countless lives over the years. HSI is committed to doing everything we can to keep dangerous counterfeit and substandard safety equipment from entering the marketplace and our cars."

Each of the defendants faces a maximum penalty of 10 years in prison for trafficking counterfeit merchandise.

U.S. Attorney Barbara L. McQuade stated, "Counterfeit auto parts like air bags not only violate intellectual property laws, they also create a serious safety risk to consumers."

Source: U.S. Immigration and Customs Enforcement

Comments
comments